As the COVID-19 pandemic enters its third year, the role of pets, shopping and work in the U.S. have changed irrevocably: pets have become an important emotional pillar for an isolated population. The "add to cart" culture makes a trip to the store a comfort and working-from-home has moved from an amenity to a necessity.
Pets – A Source of Company and Comfort
Not only have pets become an increasingly important source of emotional support for their owners throughout the pandemic, they have also been a source of connection with other humans.
61% of survey respondents said pets make them feel loved and improve their mood.
51% said their pets helped them cope with stress and loneliness.
30% said that going for walks with their pet(s) helped them meet and connect with more people during the pandemic.
3 in 4 pet owners say they miss their pet when they're not with them.
Women are more likely than men to say their pets keep them company, provide them comfort, make them feel loved and improve their mood.
Those who don't have a child under the age of 18 are more likely to report that their pets keep them company, provide them comfort, make them feel loved and improve their mood.
28% of pet owners say that their friends and family have been less concerned about them during the pandemic because of their relationship with their pets.
Almost half (42%) of Gen Z respondents were more likely than older generations to say that their friends and family are less concerned about them because of their relationship with their pets.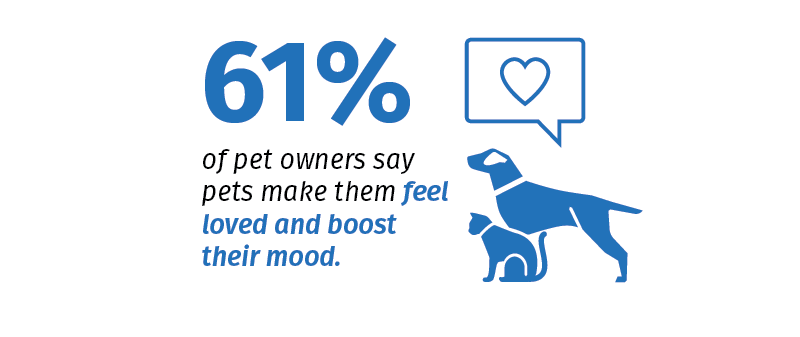 Shopping – Pockets Open Wider as Pandemic Rages On
Given how much pets mean to us, it's not surprising to hear how much we invest in them (and for them). As COVID-19 continues, a full 96% of pet owners expect to spend the same or more on their pets in 2022 compared to 2021, and around 1 in 3 expect to spend more in 2022. This is especially true among younger generations (Gen Z, Millennials and Gen X), but particularly Gen Z (44%).
Both in-person and online shoppers highlight convenience as a key reason for their preference. In the end, this convenience allows pet owners to give their pets everything they want, need and deserve.
Pet owners spent more money on food (28%), treats and/or chews (26%) and toys (20%) than they did in 2020.
There's been a 14-point drop-off in respondents who say they primarily purchased pet products in-store before the pandemic (55%) to those who expect to shop primarily in-store after the pandemic (41%).
Women's behavior has shifted (and is expected to continue to shift) more than men. Before the pandemic, 13% of women shopped primarily online for pet products compared to 19% of men. After the pandemic, 21% of women expect to shop primarily online compared to 22% of men.
Unsurprisingly, Gen Z and Millennials are driving the shift to online. 28% of Gen Z respondents and 26% of Millennial respondents plan to shop primarily online for pet products after the pandemic, compared to 22% of Gen X and 16% of Baby Boomer respondents.

Veterinarians – Vital to Care
COVID-19 has created an increased expectation for care – and that is here to stay. 3 in 4 respondents believe that routine veterinary care is important and agree that veterinarians are better able to understand pets' needs through in-person care. However, younger generations are particularly excited about how integrated care can create more convenience and a better understanding of their pets' needs.
91% of pet owners say they take their pet to see a veterinarian at least once per year. Following are the most common reasons pet owners visit the vet:

General check-ups (58%)
Vaccinations (54%)
Emergency care needs (44%)
Suspected illness/infection (42%)

76% of pet owners surveyed agree that it's easier for vets to understand their pets' specific needs through in-person visits, though there's increasing interest in enhancing the experience through technology.
Nearly 2 in 5 pet owners (38%) say offering telemedicine appointments is an important consideration for choosing a vet. This use and prioritization of telemedicine for veterinary appointments is higher among men as well as younger generations, such as Gen Z, Millennials, and Gen X.
In general, younger generations, including Gen Z and Millennials, are more likely to seek integrative veterinary care services.
Pet owners are also increasingly interested in incorporating advanced technology solutions, like biomonitoring, into their pet's care. About half (47%) say it's important for their vet to use these types of tools to improve the standard of care for their pet.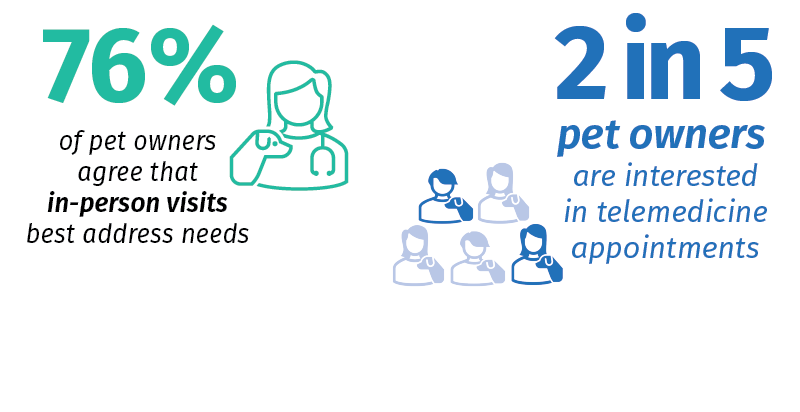 Working – Constant Companions
The ongoing pandemic and working from home have established a new dynamic between pet owners and their pets.
Shifts outside of work have also impacted exercise and travel routines. 60% of pet owners say that it is cheaper to exercise with their pets than pay for a gym membership. When traveling, 42% of people won't stay in a hotel that doesn't allow pets. This increase in pet movement underscores the need for protection against parasites and disease vectors, important conversations to have with veterinarians.
As pet owners start to consider the shift back to the office, they don't want to lose the connection with their pet that the pandemic environment created.
Of those who always work from home (22% of total), 51% feel prepared to leave their pets at home when they return back to work.
Those who always work from home think that when they return to their office, their pets will be anxious (22%), excited (20%), clingy when they are home (19%), or stressed (19%).
Those who sometimes or never work from home (78% of total) report that their pets were more excited to see them when they came back home (18%), clingy when they were home (14%), and more affectionate when they came back home (14%).
37% of respondents put a premium on pet-friendly workplaces and more than a third (38%) would work from home more often after the pandemic to spend time with their pet.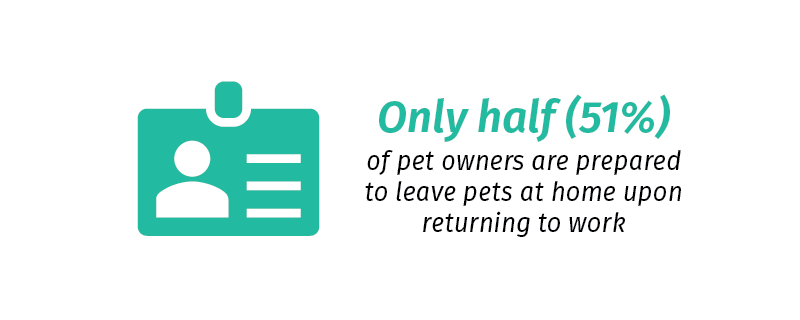 About the Study
In December 2021, Elanco fielded an online survey of 1,000 pet owners, ages 18 and older in the United States. Objectives of the study were to understand the emotional connectivity between pet owners and their animals and to illustrate changes pet owners have made in activities and behaviors towards their pets since the onset of the COVID-19 pandemic.
Elanco Animal Health. Data on File.