Board Oversight of ESG and Sustainability
Our Board and executive leadership team consider the management of ESG issues and related sustainability efforts an important priority for Elanco. On a quarterly basis, the Board Corporate Governance Committee reviews activities and practices regarding ESG matters significant to Elanco – including management of ESG risks and opportunities, as well as sustainability-related programs and goals. The Compensation and Human Capital Committee periodically evaluates applicable ESG issues, such as our policies and strategies related to workforce diversity and human capital management. The Audit Committee periodically reviews practices related to environmental protection, cybersecurity and other ESG issues, and maintains oversight of our ESG-related disclosures.
For additional information visit: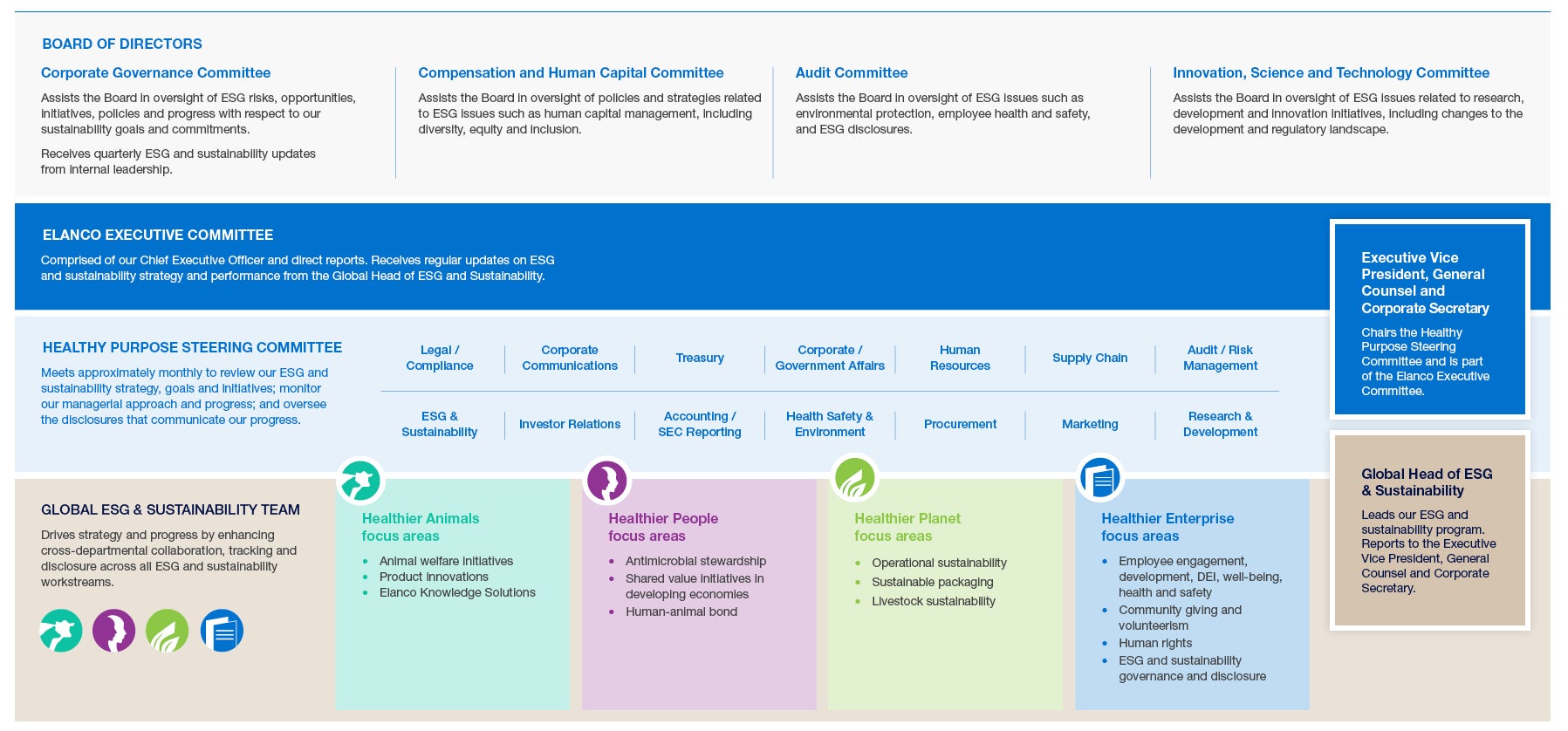 Management Responsibility for ESG and Sustainability
Elanco's ESG and sustainability program is led by our Global Head of ESG and Sustainability with oversight by our internal management Executive Committee, which includes our Chief Executive Officer and direct reports.
Further oversight is provided by the Elanco Healthy Purpose Steering Committee, a cross-functional group comprised of senior representatives from across our business including communications, finance, human resources, investor relations, manufacturing and quality, marketing, regulatory, supply chain and other functions – chaired by our Executive Vice President, General Counsel and Corporate Secretary. This steering committee meets regularly and, among other obligations, is charged with reviewing our ESG and sustainability initiatives, monitoring our managerial approach and progress toward leading ESG issues and goals, and overseeing the disclosures that communicate our progress.
We utilize working groups to foster cross-functional collaboration and tracking of key performance indicators toward the achievement of our objectives. Workgroup participants advocate for ESG and sustainability initiatives across the business and help incorporate associated performance metrics into everyday decision-making.
Our centralized ESG and Sustainability Team coordinates implementation across business units and geographies, accelerating the achievement of Elanco's Healthy Purpose objectives while ensuring our approach meets stakeholder expectations.
Elanco's Global Head of ESG and Sustainability provides regular updates to Elanco's Healthy Purpose Steering Committee, Executive Committee and Board Corporate Governance Committee.
For additional information visit:
Healthy Purpose Steering Committee
Committee Chair + Legal/Compliance:
Marcela Kirberger, Executive Vice President, Legal – General Counsel & Corporate Secretary
Accounting/SEC Reporting:
Jim Meer, Senior Vice President, Finance – Chief Accounting Officer
Audit/Risk Management:
Andy Laux, Senior Director, Internal Audit
Corporate Communications:
Colleen Dekker, Executive Director, Thought Leadership & Corporate Communications
Lee Thomas, Senior Advisor, Corporate Communications
Corporate/Government Affairs:
Jesse Sevcik, Executive Advisor, Global Government Affairs
ESG & Sustainability:
Ben Kruse, Executive Director – Global Head of ESG & Sustainability
Health, Safety & Environment (HSE):
Teri Schrandt, Senior Director, Global HSE
Human Resources:
Tiffany Houchin, Executive Director, Global Talent Management and Diversity, Equity & Inclusion
Investor Relations:
Katy Grissom, Executive Director, Finance – Head of Investor Relations
Marketing:
Katie Cook, Vice President, U.S. Farm Animal Health
Liska Vehling, Vice President, International Pet Health – International Chief Marketing Officer
Procurement:
Diogo Chaves, Executive Director – Chief Procurement Officer
Research & Development/Animal Welfare:
Ernst Heinen, Vice President, Clinical Development
Manufacturing & Quality/Supply Chain:
Gary Oldham, Executive Director, Manufacturing Strategy & Engineering
Treasury:
Beth Haney, Senior Advisor, Finance – Assistant Treasurer, Capital Markets