Posted by: W. Mark Hilton, DVM, PAS, DABVP (beef cattle)
I grew up on a swine and beef farm near Morristown, Indiana, about 10 miles from the original Elanco Research facility at Greenfield, IN. This passion for animals grew into a 40-year career of helping animals through hands-on veterinary care and mentoring veterinarians of the future.
What is your favorite part of veterinary medicine?
I love beef production medicine and doing herd consultation visits. This is where I get to spend most of the day analyzing everything about the complex system of beef production. I have the producer fill out an extensive questionnaire and then I ask numerus questions to learn about the goals of their beef business. I then make recommendations that I feel will help them achieve their goal. It is all about preventing problems and finding ways to have a healthier herd and a more profitable beef business.
Tell me a bit about you.
I enjoyed working with the livestock and knew I wanted to join 4-H. I was a 4-H member for 10 years and showed cattle and hogs and participated in the Veterinary Science program. When I was 16 our veterinarian asked what I wanted to do as a career and he said I would make a good veterinarian. I liked math and science and always had lots of questions for our veterinarian when he came to our farm. I went to Purdue and received a BS in Animal Science and then went to veterinary school there.
What was your first job out of veterinary school?
My wife, Denise, and I moved to DeWitt, Iowa upon my graduation to join Dr. Bill Speer in private practice there. The practice was an 80% farm animal practice with excellent clients. I learned a lot from Dr. Speer and my clients in the 15 years that I practiced there.
The last 7 years I was in practice we had numerous fourth year DVM students come to our progressive practice to do their externship. This is a required 6-week block of time when the students leave the college and go out to work at a private practice to gain even more skills. I discovered that I really enjoyed my role as a teacher and mentor.
Tell us about your experience as a professor.
A former professor of mine contacted me and asked if I would be interested in applying to become a professor at Purdue. This was a bit of a surprise to me and after numerous conversations with my wife and our two young sons, we made the decision to sell the practice to our associate doctors and move back to Purdue.
I spent 18 years at Purdue where I was a clinical professor at Purdue's College of Veterinary Medicine. I took our 4th year DVM and 2nd year Registered Veterinary Technology (RVT) students on farm calls so they could gain more practical experience before graduation. We had about 150 farm clients within about 40 miles of Purdue and we were their herd health veterinarians. I also developed and taught a beef production medicine elective to the 3rd year students and the last 10 years I was at Purdue I taught the "Achieving Success in Private Practice" course for the 3rd year students. This course focused on business and communication skills and that was a joy to teach that required class.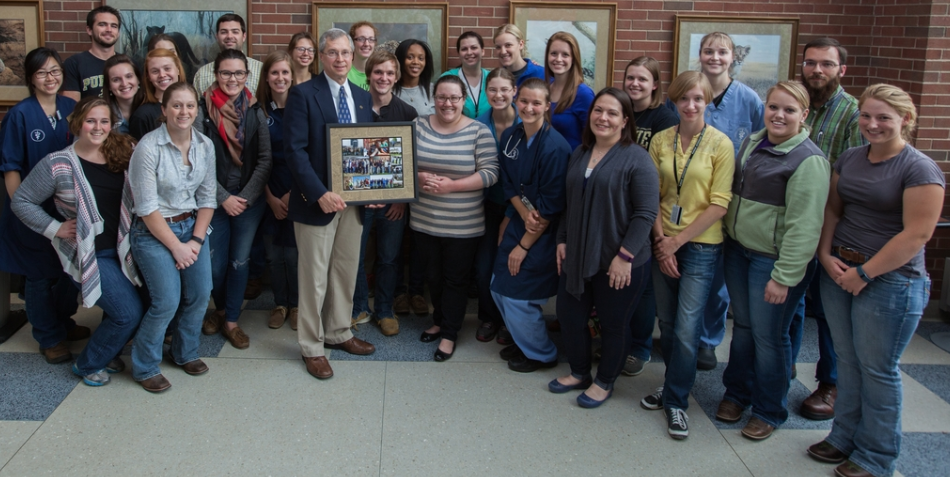 What brought you to Elanco?
Eight years ago, Dr. Ken Blue from Elanco called me and asked if I was interested in joining the beef technical consulting team at Elanco Animal Health. I was not looking to leave Purdue but promised Dr Blue I would listen to the job description. After my interview with the Elanco team, I was fairly certain that if the job was offered to me, I would take it. I was very impressed by the leadership, culture and people at Elanco and could see myself working with this team.
I have loved my 7 years at Elanco. As I mentioned before, the leadership, culture and people are second to none. I like to say that we are all on the same team, rowing our canoe in a straight line with everyone pulling their weight.
Any advice for future veterinarians or other industry professionals?
For your career find something you love to do, make sure someone will pay you to do it and make sure you help someone. I have 3 goals every day: learn something, have fun, and help someone. I think if you try to do these three things you will have a very blessed career.
Also, when doors open for you along your career journey, take some time and explore the options. I am not saying that "the grass is always greener on the other side of the fence". I was very fortunate that I only sought out 1 job: my first job at the DeWitt Veterinary Clinic. The other two opportunities came as surprises via doors that were opened for me.
I read about a research project where a gerontology researcher interviewed hundreds of people that had lived over 100 years. He asked them, "If you had to do it all over again, what would you do differently?" The overwhelming majority said they would take more risks and explore more opportunities. I am glad that I took those risks and explored the opportunities that were presented to me. I have had an incredibly fulfilling 40-year career as a beef cow-calf veterinarian and this 'small town farm boy' pinches himself frequently.
W. Mark Hilton, DVM, PAS, DABVP (beef cattle)
Associate Advisor, Farm Animal Health