The Task Force on Climate-related Financial Disclosures (TCFD) provides a framework of recommended disclosures for corporate reporting on climate-related risks and opportunities.
Inclusion of information in this report should not be construed as a characterization of the financial materiality or impact of that information. Please see our Corporate Annual Report or Form 10-K for the year ended December 31, 2022 and other publicly-filed documents available on the Elanco Investor Relations website.
Governance
Our Board of Directors and executive management team are actively engaged in Elanco's activities and approach to addressing climate-related risks and opportunities. The Board Corporate Governance Committee provides oversight and guidance for our overall ESG and sustainability program, including our strategy, programs and policies related to climate change and operational sustainability. These include emissions and waste reduction efforts, reduction of consumption of energy and water, and investments in renewable energy – such as our commitment to source 100% renewable electricity by 2030. Additionally, the Audit Committee reviews policies and practices related to environmental protection, monitors compliance and reports or makes recommendations to the full Board, as appropriate.
Our Global Head of ESG and Sustainability oversees internal management of Elanco's climate-related strategy, programs, goals and disclosures. In 2022, we established a centralized ESG and sustainability oversight team, to accelerate measurement and progress across current and future initiatives, develop incremental targets and enhance data collection for public disclosure. The team will ensure Elanco's approach demonstrates our fit-for-purpose directive and broad commitment to sustainability, while meeting the increasingly sophisticated expectations of regulators, shareholders, employees and customers. Leadership across the company contributes to these efforts – including our management Executive Committee, led by our Chief Executive Officer and his direct reports, to which our Global Head of ESG and Sustainability provides regular updates.
Further oversight is provided by the Elanco Healthy Purpose Steering Committee, a cross-functional group comprised of senior representatives from across our business including communications, finance, human resources, internal audit, investor relations, legal and compliance, manufacturing and quality, marketing, regulatory, – chaired by our Executive Vice President, General Counsel and Corporate Secretary. This steering committee meets regularly and, among other obligations, is charged with reviewing our ESG and sustainability initiatives, monitoring our managerial approach and progress toward leading ESG issues and goals, overseeing the disclosures that communicate our progress and helping ensure ESG and sustainability issues are integrated throughout departmental decision making. The committee receives updates at each meeting from the Global Head of ESG and Sustainability, as well as various programmatic leads.
Our Health, Safety and Environment (HSE) department – part of our manufacturing and quality organization and led by our Senior Director of Global HSE – has operational responsibility for the resilience of our operations, including energy and water use, as well as waste and emissions management. HSE receives oversight from the global HSE Steering Committee, a cross-functional group which includes representatives such as our Executive Vice President of Human Resources; our Executive Vice President of Innovation, Regulatory; our Executive Vice President of Manufacturing and Quality; our Executive Vice President, General Counsel and Corporate Secretary; and our Global Head of ESG and Sustainability.
We utilize working groups led by senior managers and employees across our business to foster cross functional collaboration and tracking of key performance indicators toward the achievement of our objectives. Workgroup participants advocate for ESG and sustainability initiatives across the business and help incorporate associated performance metrics into everyday decision-making.
All business areas, including Manufacturing and Quality, Research and Development, affiliate locations and general administrative offices, are required to operate with an HSE management system that adheres to the requirements of the Elanco HSE Policy and associated standards. The basic elements of the HSE Management System Standard align with internationally recognized management systems such as ISO45001 (Occupational Health and Safety Management Systems), ISO14001 (Environmental Management Systems), American Chemistry Council's Responsible Care Management System and the Occupational Safety and Health Administration Voluntary Protection Program.
HSE Governance Documents
Our global HSE policy contains core principles and expectations that our employees apply in their daily activities. This policy is implemented through our global standards and procedures, articulating our commitments and setting basic requirements for both regulatory requirements and established best practices. Our core governing documents include the following:
Environmental Standard
Global HSE Policy – Protecting People, the Environment, and our Assets
Health and Safety Standard
HSE at Global Affiliate Offices and Shared Service Centers Standard
HSE Management System Standard
Process Safety Management and Combustible Dust Standard
Product Stewardship Standard
Climate-related Ties to Leadership Compensation
Annual performance measures for our Global Head of ESG & Sustainability, Senior Director of Global HSE, members of our global ESG and sustainability team and other senior leaders across our business include climate-related objectives. These may include progress toward our renewable electricity goal or other environmental impact reduction initiatives, as well as accurate and transparent disclosure of our environmental metrics and programs.
For additional information about Board and executive oversight of ESG and environmental matters, see our 2023 Proxy Statement and Board committee charters.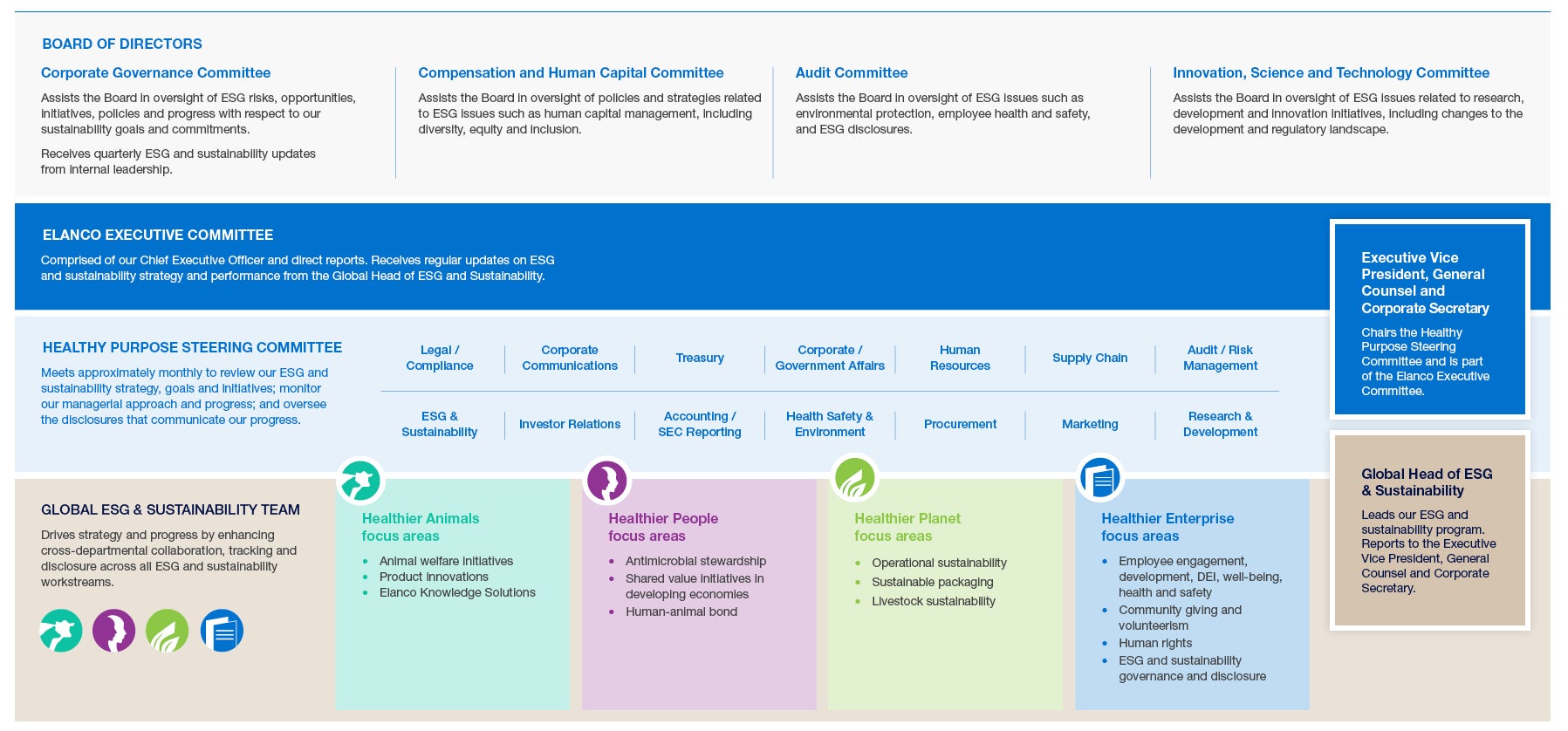 Strategy
We understand our business operations have an impact on the environment and we are committed to conducting business in an environmentally responsible manner. We take active measures to reduce energy and water use, minimize emissions and manage waste – including minimizing the presence of pharmaceuticals in the environment.
We continue to enhance our systems and data availability to ensure we meet stakeholder expectations and align with disclosure requirements forthcoming in many of the jurisdictions where we operate. As part of our continuous improvement program, in 2022 we broadened efforts to understand and account for all applicable greenhouse gas (GHG) emissions. We expanded our reporting boundary for Scope 1 and 2 emissions to include all sites for which we have full operational control.
Our Scope 1 emissions result predominantly from natural gas and fuel oil use related to manufacturing Elanco products at our owned facilities, as well as fleet vehicle use across our sales teams. For 2022, we've added emissions calculations to reflect all owned and leased locations – as well as production-related emissions, such as fermentation.
Our Scope 2 emissions relate primarily to purchased electricity at owned and leased facilities, and for 2022 we've incorporated the positive impact of renewable electricity purchases as we advance toward our 100% renewable electricity goal. In 2022, we sourced >12% of electricity from renewable sources in 2022.
In the first half of 2023, we completed a comprehensive analysis of our 2021 and 2022 Scope 3 emissions, which we are disclosing for the first time. Our enhanced emissions inventory will enable us to set a comprehensive Scope 1 and 2 emissions reduction target. We also intend to pursue future certification of our emissions reduction goals from the Science Based Targets Initiative.
In 2023 and beyond, we expect to enhance monitoring of supplier energy and emissions management initiatives through the launch of a new third-party due diligence platform and to engage categorically across our value chain to help reduce emissions where possible.
Renewable Electricity
We continue to progress toward our goal to source 100% renewable electricity by 2030. Our strategy includes selecting green tariffs and other renewable grid electricity options from local providers and exploring power purchase agreements (PPAs) that can secure a long-term supply of renewable electricity by contracting directly with solar or wind power developers.
Several of our sites take advantage of renewable options offered by local energy providers:
In 2022, our manufacturing site in Kiel, Germany began operating on 100% renewable grid electricity sourced from wind power.
In 2021, 88.5% of electricity purchased at our manufacturing site in Fort Dodge, Iowa was generated from renewable sources. (Note: 2022 renewable percentage verification by Iowa Utilities Board not yet completed.)
In 2022, our affiliate office in Macquarie Park, Australia began purchasing 100% green electricity that uses a combination of renewable sources and carbon offsets to achieve net zero emissions.
Our Huningue, France manufacturing and warehouse locations purchase 100% renewable grid electricity.
To accelerate progress toward our 100% renewable electricity target, by the end of 2023 we expect to evaluate our first virtual PPA. Once built and online, we expect this initial arrangement to provide renewable electricity equivalent to a significant portion of our U.S. electricity demand. Furthermore, we are considering opportunities for on-site solar arrays at Elanco properties with physical space and attributes that could support such installations.
For more information, see our GHG and Energy issue brief.
Value Chain Emissions
We seek to influence GHG emissions reductions beyond our direct operations. In 2023, we finalized our first comprehensive Scope 3 GHG emissions analysis, determining that 11 of the 15 Scope 3 categories identified by the GHG Protocol are relevant to Elanco's business.
In 2022, our teams across the globe acted on a number of opportunities to reduce Scope 3 GHG emissions:
Logistics: We shifted logistics from air to sea freight for products shipped to a major online retail customer from our Huningue, France location.
Data visibility: We began mapping our carbon footprint with freight forwarders in a single dashboard, allowing us to establish sustainability taskforces with key vendors.
Commuting: Our Huningue, France and Warsaw, Poland locations implemented green commuting incentives encouraging employees to bike or ride the train to work. In Huningue, employees who take the train are reimbursed 80% of the cost. And Warsaw employees who participated in a 3-week bike-to work initiative were rewarded with yogurt or smoothies each morning they arrived by bicycle.
Packaging: We implemented and continue to research numerous sustainable packaging initiatives. In 2023, we expect to enhance monitoring of supplier energy and emissions management initiatives through the launch of a new third-party due diligence platform. And in the future, we expect to engage categorically across our value chain to help reduce emissions, where possible.
Logistics
Elanco's logistics initiatives help reduce GHG emissions and waste, while providing opportunities to develop value chain partnerships that can enhance our positive impact and drive industry-wide change.
Following the integration of Bayer Animal Health, our global logistics, warehousing and distribution network grew significantly in size and complexity. In 2022, we established a data collection and freight forwarder dashboard to help bridge supply with customer demand, ensure accessibility and support profitability. The program considers air, ocean and road transportation modes across our top international freight forwarders – representing more than 90% of our product volume. In the first year, this initiative focused on providing more granular visibility into our international freight performance, including CO2 reporting. Targeted tactical efficiencies will allow us to optimize logistical choices for carbon reduction. To date, the program has optimized routes to reduce air freight use – our most carbon-intensive transportation mode – facilitating a reduction of approximately 10% in our Scope 3 Category 4 emissions.
In 2022, we finalized the redesign of our logistics network, thanks to new capabilities for supply chain and logistics scenario modeling. This effort supports cost optimization, faster customer service levels and reduced carbon emissions. Initial outcomes include consolidation and a reduction in our number of warehouses by 33%, which provides efficiencies and emissions reduction. In 2023, our logistics team is pursuing additional efficiency and carbon-reduction initiatives for shipping packaging and international freight.
In 2023 and beyond, we expect to strengthen our logistics continuous improvement program and conduct workshops with our leading freight forwarders. We also expect to further develop our mode of transportation conversion from air to sea/rail/road for international freight forwarding.
Risk Management
We recognize extreme weather events or climate-related natural disasters may impact our ability to operate and serve our customers. Climate change-related factors may also negatively impact the health and well-being of farm animals as well as our customers' ability to raise healthy livestock. And as climate change impacts may create economic downturns, these developments could potentially negatively affect pet owners' ability to provide veterinary care for their pets. These, in turn, could lead to reduced demand for Elanco's products and services.
We maintain an enterprise risk management program to identify, assess, manage, monitor and report any risks that may have an impact on our business – including those potential risks related to the health and safety of our people and the planet. We also install and regularly update business continuity plans and risk mitigation measures that strengthen our operational resilience and protect our ability to navigate uncertainties.
Elanco and our affiliates are subject to various environmental, health and safety laws and regulations that apply in the different jurisdictions in which we operate. We ensure compliance as national laws and regulations are updated or modified.
In 2023, we expect to complete a TCFD-aligned climate scenario risk assessment which includes potential climate-related business impact from supplier to customer. Insights gained from that assessment will inform updates to our TCFD disclosure.
For details on our integrated approach to climate-related risks – including Board and executive oversight – please visit the Governance section of this TCFD disclosure. Information on environmental and business risk assessments may also be found in our Form 10-K.
Opportunities
Climate change-related factors with the potential to negatively impact the health and well-being of animals may also create opportunities for Elanco, as we work to support pet owners and livestock producers' seeking to raise healthy livestock.
For example, parasitic disease patterns shift in response to changing climate conditions and customers around the world may require more innovative disease treatments and preventative products. This offers an opportunity for us to continue to bring novel treatments to the market, particularly to enhance our product range for parasite protection across species.
Livestock Customer Emissions Reductions
Operational sustainability is just as important to our customers as it is to Elanco. We're committed to supporting our livestock customers as they seek to maximize productivity and reduce their environmental footprint. Our products and services can help customers reduce feed inputs per animal, increase beef and dairy yield from the same size herd and operate more sustainably with fewer overall methane or ammonia emissions.
Our four-pillar approach to supporting customer GHG emissions reductions includes:
Innovation: Through research, development and strategic partnerships, we offer products and services that can directly lessen emissions.
Measurement: We're developing tools our customers can use to measure their GHG emissions, establish baselines and demonstrate improvement.
Value creation: We're helping establish capital markets that can reward producers for GHG emissions reduction progress.
Coalition: We collaborate with customers and non-government organizations to establish industry protocols and disseminate best practices that can catalyze broader systemic change.
Launched in 2021, Experior is the first FDA approved product with an environmental claim to help reduce ammonia gas emissions per pound of carcass weight in cattle fed in confinement. When fed at the approved doses and duration, Experior reduced ammonia gas emissions an estimated 16%, according to clinical research studies.1
Rumensin helps beef and dairy farmers produce more meat and milk using fewer natural resources. Rumensin can reduce the enteric emissions of dairy cows2 and beef cattle up to 5.4% — and can reduce the amount of feed needed for beef cattle up to 10%.3
Bovaer® (3-NOP) is a first-in-class methane-reducing product for beef and dairy cattle currently approved in Europe, Brazil, Chile, Australia and other jurisdictions. Bovaer consistently reduces enteric methane emissions approximately 30% for dairy cows and even higher percentages for beef cattle.4 Through a partnership with DSM, Elanco obtained exclusive rights to manufacture and sell Bovaer in the U.S. We continue to have a path toward FDA approval in the first half of 2024.
We have a public goal – through our products, innovation, services and tools – to help our customers avoid 21 million metric tons of GHG emissions from their farms by 2030 (2020 base year). Customers using Rumensin between 2020 and 2022 have collectively avoided an estimated 7.2 million metric tons of GHG emissions (CO2e).
For more information, see our 2022 ESG Report and livestock sustainability website.
Goals
| | |
| --- | --- |
| Goals | 2022 Progress |
| Source 100% renewable electricity by 2030 | We sourced >12% of electricity from renewable sources in 2022. |
| Track and implement programs to reduce Scope 1 and Scope 2 GHG emissions | We expanded our 2022 GHG emissions reporting boundary to reflect our operational control as defined by the GHG Protocol5 – which includes our fleet and all owned and operated global locations. We're working across our sites to understand regional energy efficiency and opportunities for renewable energy programs. |
| Develop a comprehensive approach to address Scope 3 emissions | We're now disclosing 2021 and 2022 Scope 3 GHG emissions representing the 11 categories material to Elanco. |
| Through our products, innovation, services and tools, help our customers avoid 21 million metric tons of GHG emissions from their farms by 2030 (2020 base year) | Customers using Rumensin between 2020 and 2022 have collectively avoided an estimated 7.2 million metric tons of GHG emissions (CO2e). |


Metrics
Please view our comprehensive disclosure of ESG Key Performance Indicators