Dairy cows play a significant role in providing high quality nutrients for people all over the world. They convert feed that people can't eat and upcycle many human food by-products into high quality protein and great tasting products.
The dairy industry is more than just cows who produce milk. It's the farmers who raise the cows, care for the cows and continue an agricultural legacy that creates lasting impacts on people in their community. Enter: Vinton Smith, Elanco Executive Sales Representative within the farm animal business. Vinton was raised on a small dairy farm in Pennsylvania, worked in the dairy industry his entire life and has now paved a significant path for dairy farmers in Africa – helping to improve the future of livestock to reduce hunger and malnutrition in the people who depend on it.
In 2016, Smith traveled to Zambia as part of an Elanco Animal Health and Heifer International trip, then worked in Tanzania with his church for another week. Following that initial trip, Smith and his daughter worked in Kenya in 2019, and most recently he traveled to Ethiopia in 2023.
The purpose of Smith's first trip to Africa was to better understand the challenges of hunger in the developing world and to teach improved agriculture and animal husbandry practices to farmers in the region. While preparing for his trip to Zambia, a landlocked country in southern Africa, Smith started "One Cow at a Time," a blog and social media platform. "I wanted to share my experiences with others so that they too many be inspired to consider helping others… that may be volunteering for other mission trips, volunteering in local communities or by supporting organizations that support agricultural and food security initiatives in the developing world," said Smith.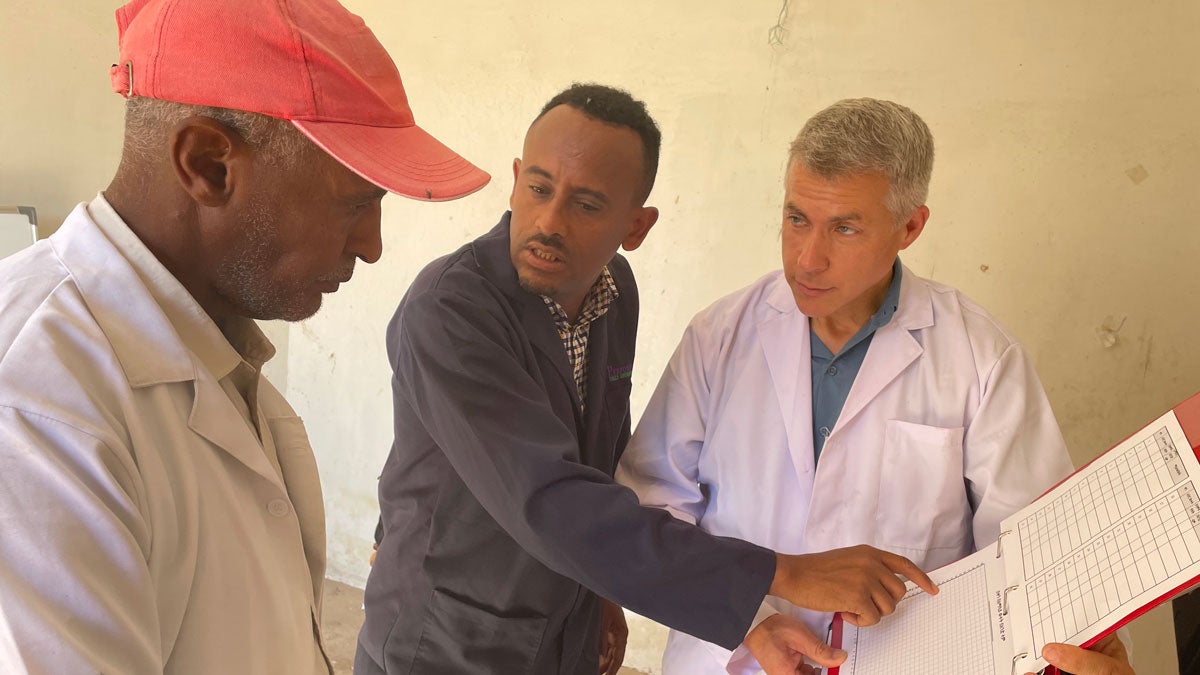 "It was through Elanco's work with other non-profit organizations that led to my first trip to Africa," said Smith. "It was doing this trip that I witnessed people suffering from hunger firsthand. I also saw the impact that one cow, a few goats, a few chickens or even a hive of honeybees could make in their lives. It was also the time I witnessed how sharing a little knowledge and providing a small amount of help can make a profound and meaningful difference in their lives."
After two successful trips, Smith felt the pull to return to Africa. In early 2023, he visited Ethiopia as part of Catholic Relief Services' Farmer-to-Farmer Program with a mission to share knowledge and insights that could help dairy farmers help themselves and help others in their communities.
Upon arriving in Ethiopia, Smith spent two weeks working with Yaya Dairy Farm and the farmer, Yared Abebe. There, he was able to observe the challenges they were facing. "The challenges were significant," said Smith. "They had limited resources and I had a very limited time (two weeks) and two different language barriers. I realized I needed to adapt my approach. Instead of just teaching and telling Yaya Dairy Farm what they needed to do differently, I worked side by side with Yared and his employees every day, teaching them how to observe their cows and identify opportunities to improve."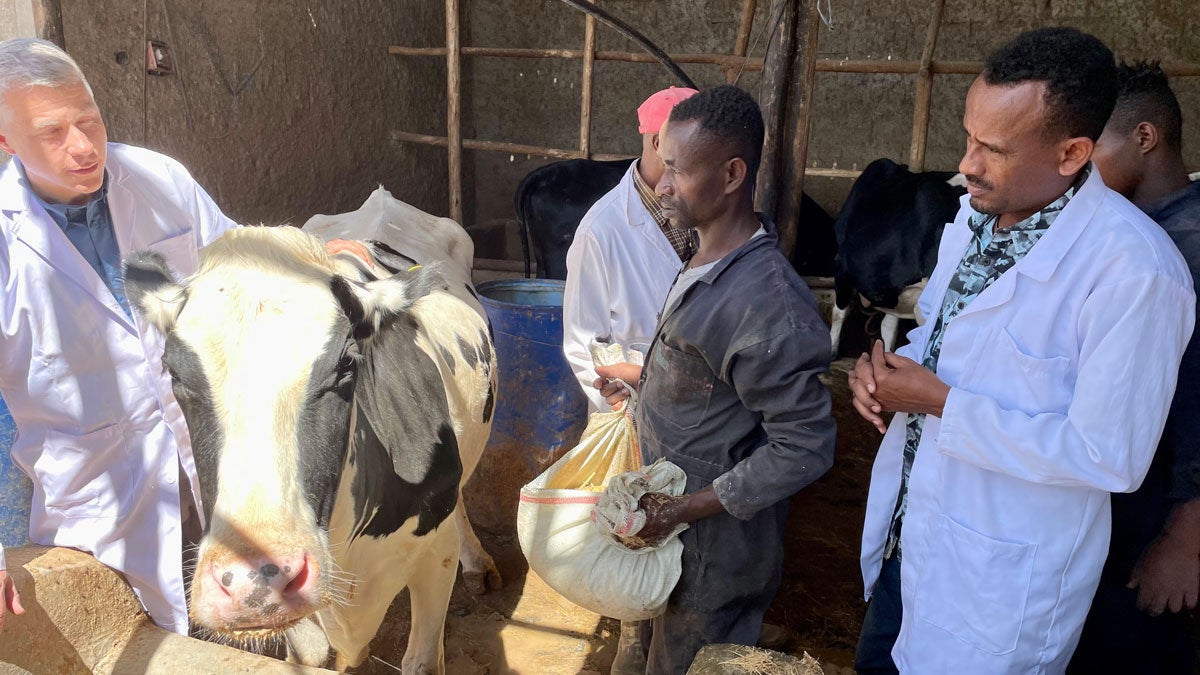 Through the process, they identified and implemented several improved dairy farm management practices, including increased access to water, started feeding a total mixed ration (TMR), implemented a more hygienic and improved milking technique and developed and implemented a new dairy cow and herd record keeping system.
When Smith arrived, the cows were averaging only 11 liters of milk per cow. One month after providing training on improved dairy management practices, Yaya Dairy Farm increased to 16 liters of milk per cow, a 45% increase in milk production.
"As a result of the work we did together, Yaya Dairy Farm can now provide 320 more kids a serving of milk every day," said Smith. "Yared started teaching other farmers in Ziway, Ethiopia as well. This will lead to more farmers improving milk production, improving their lives and the lives of so many others throughout their community."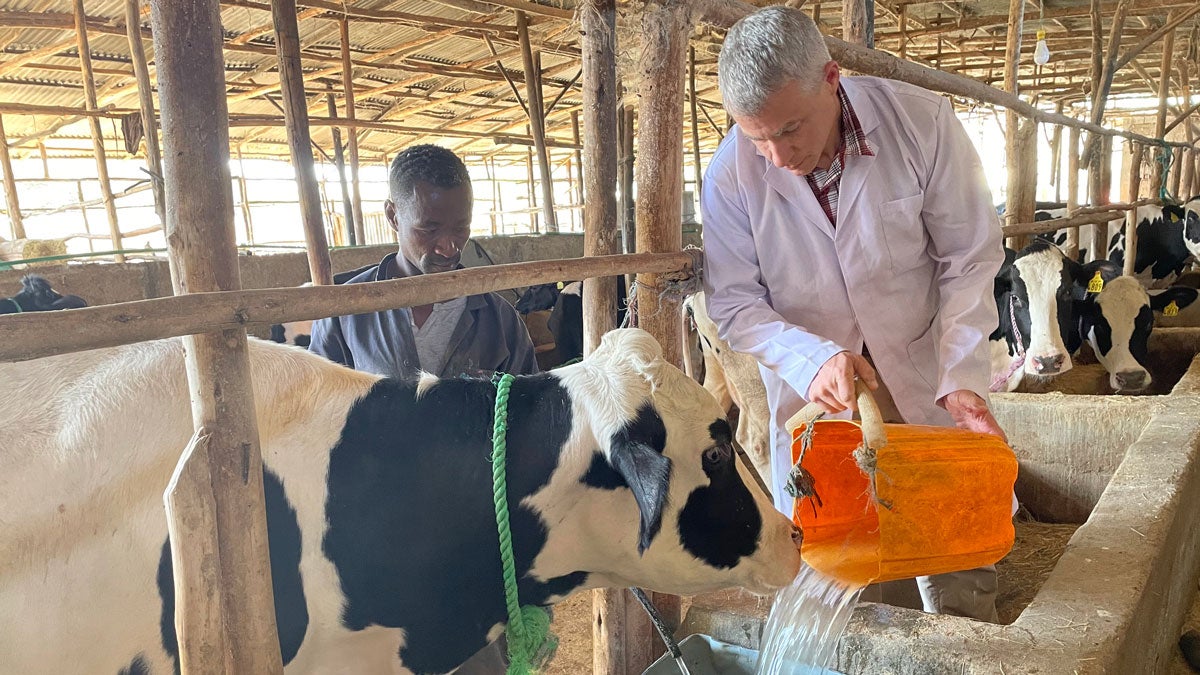 Currently at Elanco, Smith works with dairy farmers in the U.S. Through his travels, he's learned many things about the differences between dairy farming in the U.S. and Africa. U.S. dairy farms are much more technologically advanced. "Most of the cows in Ethiopia are milked by hand, the same way US dairy farmers milked their cows 100 years ago," said Smith. There is a lot that the U.S. Dairy Industry can help with, but the solution is not to simply take all of the knowledge and technology and do it the same way. "Dairy farmers in Africa are in different situations, dealing with different circumstances and we need to help them make incremental improvements." said Smith.
Developed countries, like the U.S., can also learn from those in developing countries. "Farmers in the U.S. always face adversity but not like the significant challenges that African dairy farms face every day," says Smith. "Despite that adversity, they hunger for more knowledge and want to improve. One of the most satisfying and personally inspiring things that comes from my volunteer work has been when I see a farmer recognize how a small change they make, leads to big improvements in health and productivity of their cows. That motivates their desire to improve even more and inspires them to have even more hope for a better tomorrow."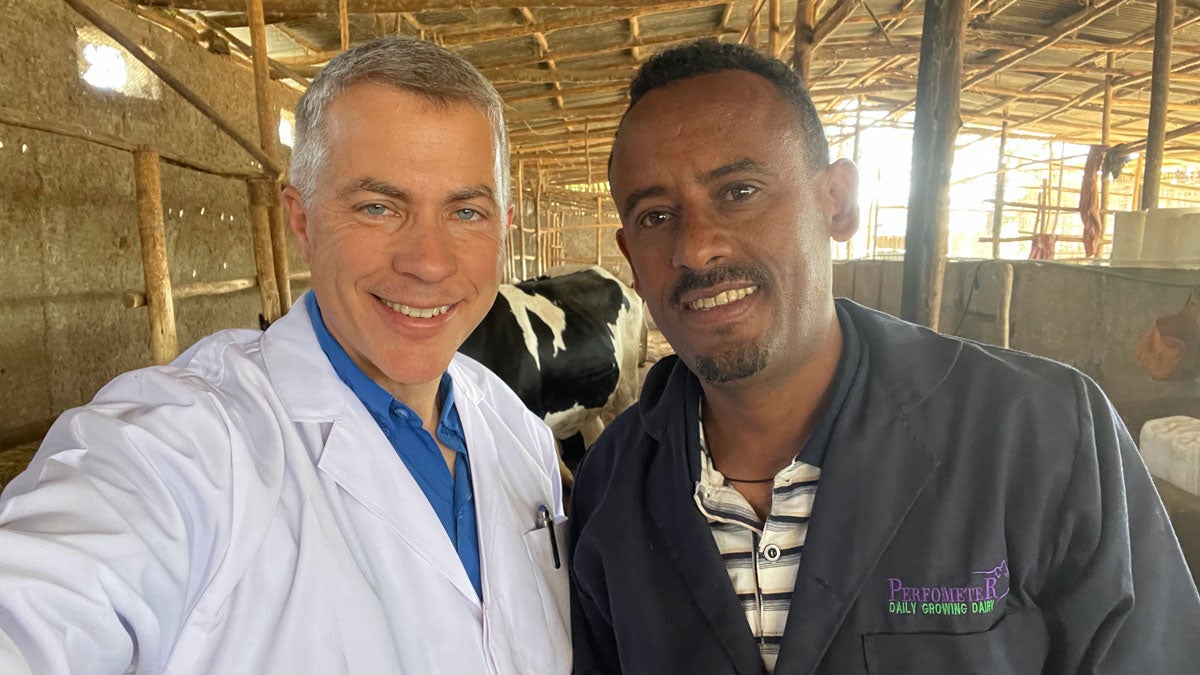 Vinton sums up his whirlwind adventures of giving back to an industry he's exceptionally passionate about, saying, "As I reflect on the work I've done in Africa, one of the most important things farmers in both the U.S. and Africa can do is ask this question every day, 'What is one thing I can do differently today, that will make tomorrow better than yesterday?' I feel privileged to wake up every day with a goal to help dairy farmers here in the U.S. I feel even more privileged to be able to help dairy farmers in the developing world. The impact on their families and their communities is so much greater. I get so much personal satisfaction seeing all dairy farmers use the information and ideas I share to improve herd health and productivity. This helps to improve their business and family's lives while also increasing availability of high-quality milk – helping nourish the world!"
For more information on Vinton Smith and One Cow at a Time, visit: https://onecowatatime.wordpress.com/ or follow on Instagram at @OneCowAtATime
Vinton Smith
Executive Sales Representative - Farm Animal Health