Published in: The Australian Business Awards
"Elanco has been selected as an Employer of Choice in The Australian Business Awards 2023. The Australian Business Award for Employer of Choice [EOC] recognises organisations that develop workplaces that maximise the full potential of their workforce through established policies and practices which demonstrate effective employee recruitment, engagement and retention.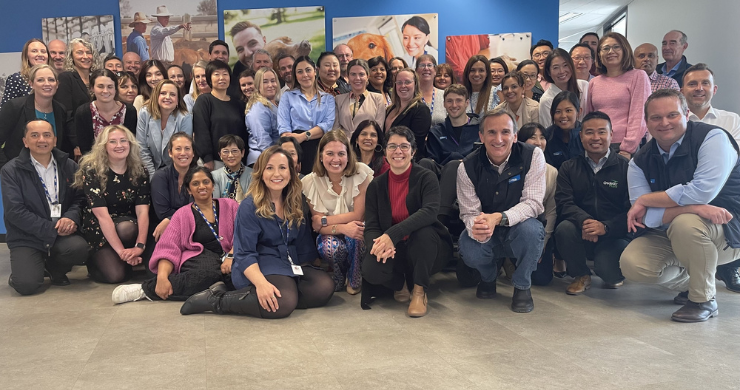 Elanco is a leading global animal health company that underwent a significant turnaround in its workplace culture over the past four years in response to rapid change. Following its separation from Eli Lilly in 2019 and acquisition of Bayer Animal Health business in 2020, Elanco employees faced the inherent uncertainty of such upheavals. The leadership team recognised the potential impact on employee morale, loyalty, and motivation and took action to address these issues.
Now, in 2023, the company has successfully fostered a positive work environment for its employees (quantified by significant improvements in staff engagement surveys) driven by a vision of "Food and companionship enriching life" and principles that promote a healthier enterprise, animals, people, and planet through a range of programs, policies and initiatives.
The company's firm commitment to employee well-being, development, and recognition is reflected in the results of its semi-annual "Voice of Employee" survey in 2022. Notably, 92% feel their manager creates an inclusive environment, and 70% envision themselves still working at Elanco in two years. This is also evident by the 40-percentage point jump in staff who would recommend the company as a great place to work over 19 months and an almost 50% reduction in staff turnover compared to 2021.
This improvement can be attributed to the work of the leadership team and its commitment to listening to the needs of its employees at all levels via its new Employee Engagement taskforce and Employee Resource Groups. New policies that addressed employee engagement raised awareness of internal and external business initiatives and introduced a well-communicated and implemented CSR and ESG framework that became a priority. Additionally, a newly created role, the Communications and Employee Engagement Manager (internal secondment) was created to implement and monitor these programs.
Furthermore, Elanco continuously evolves and adapts to feedback and best practices, fostering a dynamic and agile work environment that caters to the changing needs of its employees in the post-pandemic era. This approach aligns with Elanco's proven Innovation, Portfolio, and Productivity (IPP) strategy, which seeks to deliver value to its customers. As a result, Elanco has created a modern and flexible work culture that empowers its employees to perform at their best while enhancing the lives of its stakeholders. The company's progressive approach provides various options for its workforce, including compressed workweeks, work-from-home arrangements, and generous leave policies, ensuring a flexible and autonomous work environment that aligns with employee preferences.
Elanco's performance, recognition, and remuneration systems, designed to attract and retain a diverse talent pool, have contributed to the company's thriving work environment. Its recognition programs, such as the Top Performance Award (TPA) and Inspire, have fostered a culture of ownership, innovation, and delivery, leading to impressive employee satisfaction.
Prioritising employee well-being and safety, Elanco has implemented various initiatives, such as offering mental health first aid courses through the "You Matter" program and targeted training for various areas of the company, including defensive driving courses for the sales team for safety when they're out on the road, and ergonomic assessments for office/home-office-based employees has resulted in a more secure and supportive work environment.
Elanco's commitment to fostering a supportive workplace prioritising employee well-being, development, and recognition has resulted in an inspiring and fulfilling work environment. This approach not only benefits employees but also the animals and communities they serve."