Posted by Martin Wans | 04-Nov-2020
In many areas of the world, Companion Vector-Borne Diseases (CVBD) are defying traditional boundaries – and not just geographical ones. Existing diseases, such as leishmaniosis and Lyme disease, are crossing into new areas, while new vectors and emerging diseases are being discovered. What's more, their interactions with wildlife, our environment, pets and people is becoming ever more complex, driving a greater need for prevention.
Leading experts and thought leaders in parasitology are due to meet virtually at the 15th Symposium of the CVBD World Forum in November (10 – 12th) to share current challenges in vector-borne diseases. Ahead of the event, we take a look at a selection of important CVBDs which have been discussed in a series of publications related to the symposium.1
Lyme disease – new territories
Lyme borreliosis or Lyme disease, to use its most familiar name, is a bacterial infection transmitted by ticks. It is thought to be the most important reported vector-borne disease in Europe and the US.2
There are a number of factors that have been attributed to its spread. One such factor is increased nature preservation and reduced hunting activity, which is thought to have boosted wildlife populations that act as reservoirs for the bacteria.
Additionally, expansion of human activity, including increased urban development and increased outdoor recreational activities is increasing the proximity of domestic animals and humans to wildlife. Meanwhile, warmer environments enable ticks to be active year-round so the risk of acquiring the disease is no longer seasonal. This means that pets and people can come into contact with ticks at any time of the year.
Leishmaniosis – new locations
Leishmaniosis is a parasitic disease usually transmitted to animals and humans through bites from infected sand flies. Leishmania infantum is the predominant Leishmania species in cats and dogs and is associated with the most severe form of leishmaniosis, visceral leishmaniosis, in humans.
The disease occurs on almost all continents and research is showing that potential vectors are more widespread than previously thought.3 Climate change is thought to be responsible, in part, for greater sand fly distribution as increasing temperatures create conditions suitable for survival of the sand flies in areas where this was not the case before. Meanwhile, increased pet travel and importation of dogs has led to long-distance spread of Leishmania pathogens from endemic countries. A previous study has found that around 2.5 million dogs have been infected with Leishmania in Southern Europe.4
To complicate matters further, transmission can also occur in absence of the sand fly vector, such as by blood transfusion, across the placenta or by aggressive contact. This has led to the occurrence of L. infantum in some other countries such as Canada.5
Babesiosis – new types
Babesiosis is the oldest tick-borne disease reported in domestic animals and is now one of the most important tick-transmitted infectious diseases in dogs. The pathogen was discovered at the end of the 19th century by the Romanian scientist Victor Babes, who was investigating blood in the urine of cattle.6
As well as being an economically important and widespread animal disease, it is also recognized as an emerging health concern in humans on most continents including Europe, Africa and Asia.7
The disease is entering new areas and novel species of the microorganism responsible for the disease are being discovered. [8] New discoveries such as these are a step in the right direction towards better understanding of such CVBDs, but it's clear there are still large knowledge gaps that exist across the globe.
The Symposium of the CVBD World Forum is planned to take place virtually on November 10th – 12th, having been postponed from April due to the COVID-19 pandemic. Visit the CVBD Website to find out more and discover the latest information about how CVBDs are affecting our world and how a deeper understanding is important for both the health and well-being of humans and animals.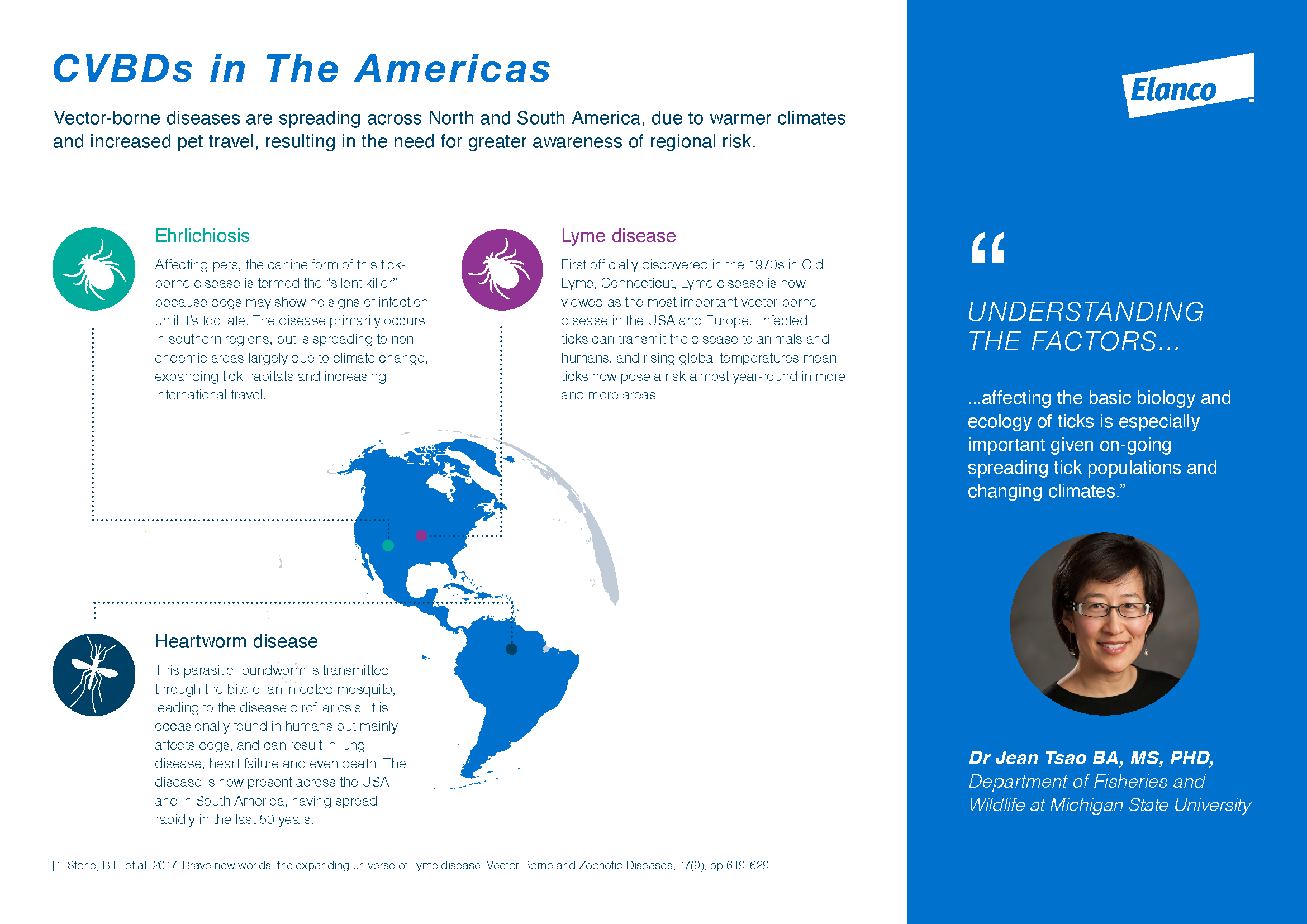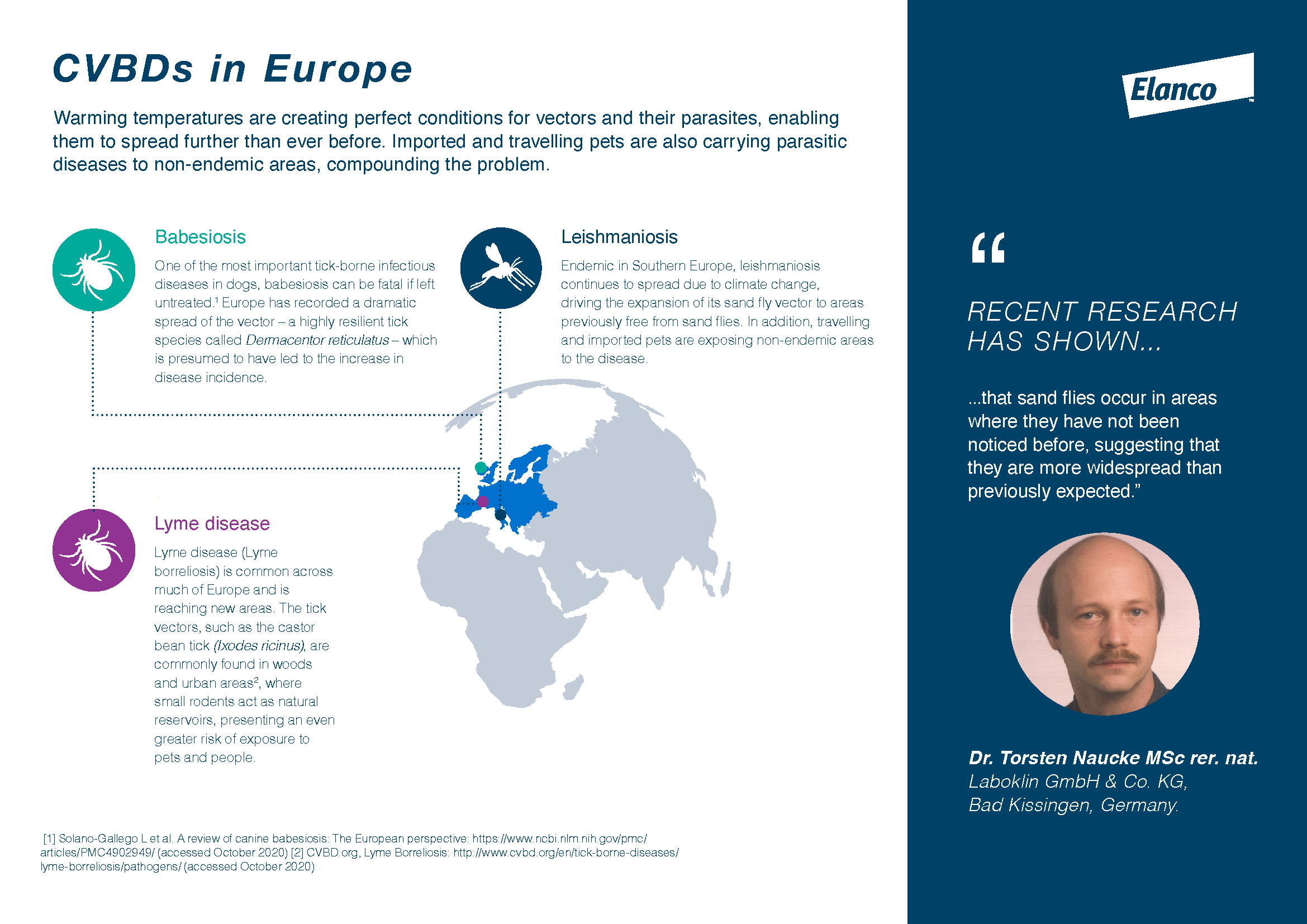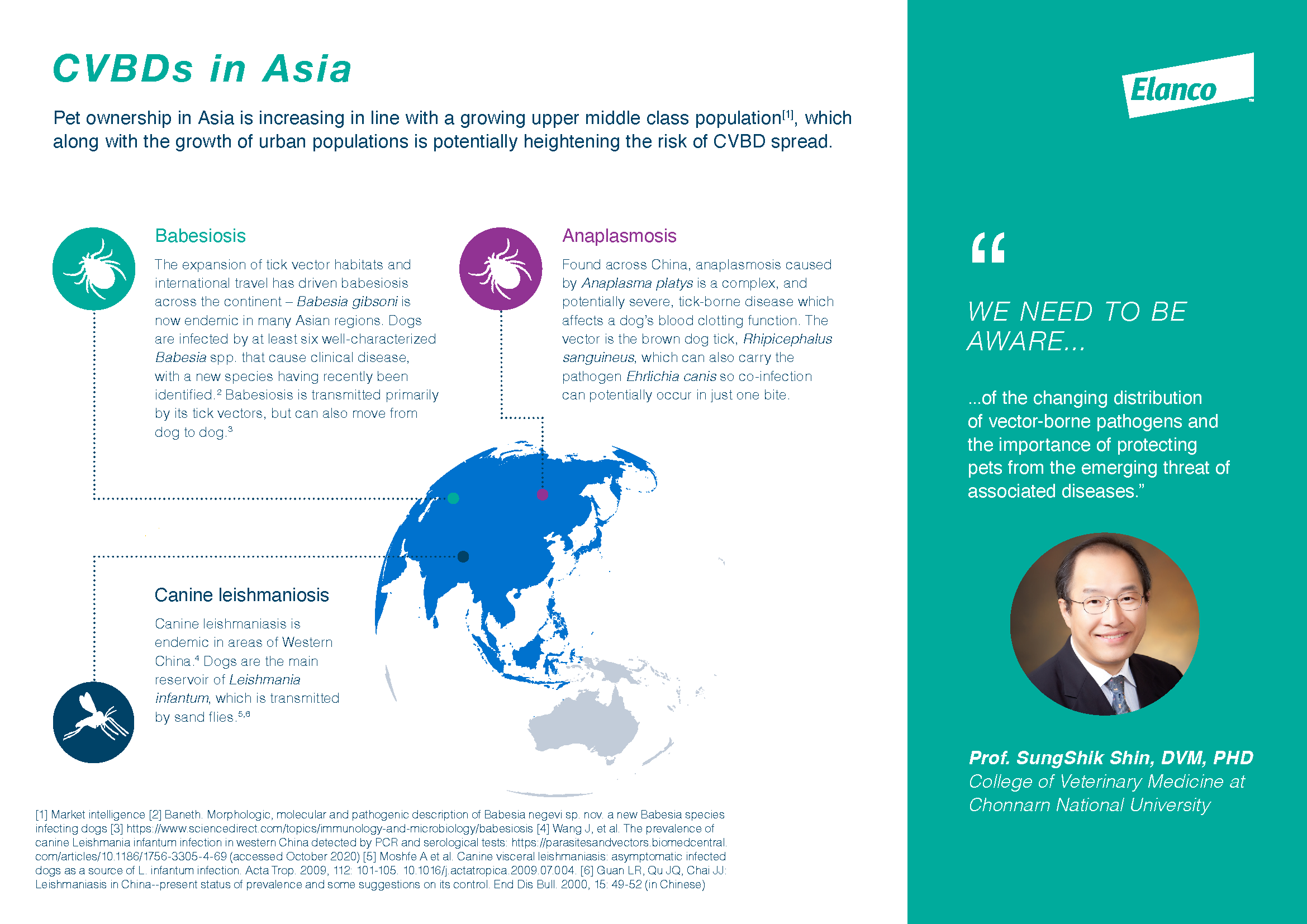 Refs:
1 P&V CVBD collection https://www.biomedcentral.com/collections/cvbd15
2 Stone, B.L., Tourand, Y. and Brissette, C.A., 2017. Brave new worlds: the expanding universe of Lyme disease. Vector-Borne and Zoonotic Diseases, 17(9), pp.619-629.
3 Oerther, S., Jöst, H., Heitmann, A., Lühken, R., Krüger, A., Steinhausen, I., Brinker, C., Lorentz, S., Marx, M., Schmidt-Chanasit, J. and Naucke, T., 2020. Phlebotomine sand flies in Southwest Germany: an update with records in new locations. Parasites & vectors, 13, pp.1-8.
4 Moreno J, Alvar J. Canine leishmaniasis: epidemiological risk and the experimental model. Trends Parasitol. 2002;18:399–405.
5 Wright I. Emerging Parasites and the Threat They Pose to the UK Part 3. eCPD Article (2018) https://vet-ecpd.com/content/uploads/2018/04/Part-4-Emerging-Diseases-from-Abroad.pdf
6 Babes, V. (1888): Sur l'hémoglobinurie bactérienne du boeuf. C.R. Acad. Sci., Ser. III Sci. vie 107, 692–694
7 Ord RL, Lobo CA. Human Babesiosis: Pathogens, Prevalence, Diagnosis and Treatment. Curr Clin Microbiol Rep. 2015;2(4):173-181. doi:10.1007/s40588-015-0025-z
8 Baneth, G., Nachum-Biala, Y., Birkenheuer, A.J., Schreeg, M.E., Prince, H., Florin-Christensen, M., Schnittger, L. and Aroch, I., 2020. A new piroplasmid species infecting dogs: morphological and molecular characterization and pathogeny of Babesia negevi n. sp. Parasites & vectors, 13, pp.1-13.
EM-ALL-20-0052